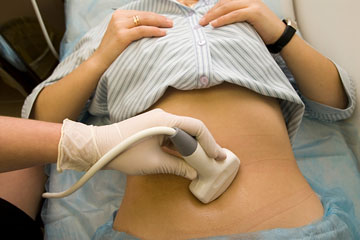 Medical imaging is a means of assessing and diagnosing various medical conditions; the term encompasses both sonography and radiological technologies. Sonography utilizes sound waves to generate an image, while radiologic technologies include x-rays, computed tomography, and magnetic resonance imaging.

Diagnostic medical sonographers operate equipment which directs high frequency sound waves into areas of the patient's body. This equipment collects reflected echoes and uses them to form diagnostic images. Sonographers take measurements, calculate values, and analyze initial results. They may specialize in obstetric and gynecology sonography, abdominal sonography, neurosonography, or breast sonography.

Sonographers typically work in darkened rooms or at a patient's bedside. They may be on their feet for long periods of time and have to lift or move disabled patients. Most sonographers work in hospitals or other health care facilities, but some travel to patients' homes. They should have good communication and interpersonal skills, as well as good hand-eye coordination.

Sonographers can be trained in hospitals, vocational-technical institutions, colleges or universities, or the armed forces. Colleges and universities offer two year associate's degrees or four year bachelor's degrees. Courses include anatomy, physiology, instrumentation, basic physics, patient care, and medical ethics. There are also several one year programs which result in an acceptable vocational certificate. No states require licensure, but employers look favorably upon sonographers who have passed the registration exam given by the American Registry for Diagnostic Medical Sonography (ARDMS). Sonographers may advance by seeking competency in more than one specialty, or they may advance to supervisory, managerial, or administrative positions.

Radiologic technicians perform x-rays, also known as radiographs, while radiologic technologists perform more complex procedures such as computed tomography, magnetic resonance imaging, and mammography. Radiologic technicians and technologists explain procedures to patients, position them, and surround the exposed area with lead shields or other radiation protection. They position the equipment and set controls to produce appropriate density, detail, and contrast in the images. Radiologic technologists specializing in computed tomography (CT) are know as CT technologists. Those specializing in magnetic resonance imaging (MR) are known as MR technologists. Technologists specializing in low-dose x-rays of the breasts are known as mammographers.

Radiologic technologists and technicians spend a lot of time on their feet and must lift and move disabled patients. They must minimize the risk of radiation by using lead aprons, gloves, and other radiation shielding devices, and must keep records on their cumulative lifetime dose of radiation. They should be sympathetic, detail-oriented, and work well as part of a team.

Radiologists may hold an associate's degree, a bachelor's degree, or a certificate from a 21-24 month program. Degrees and certificate programs provide instruction in anatomy and physiology, patient care, radiation physics, radiation protection, principles of imaging, medical terminology, positioning of patients, medical ethics, radiobiology, and pathology. The American Registry of Radiologic Technologists (ARRT) offers voluntary certification. With experience and training, technologists can become specialized in a particular area, or promoted to supervisor, chief radiologic technologist, or department manager.

Faster than average job growth is expected in the fields of sonography and radiology. Please visit the Society of Diagnostic Medical Sonography and American Society of Radiologic Technologists websites for more information about careers in medical sonography and radiologic technology, respectively.
Related Directory Pages
---
About Medical Imaging Services